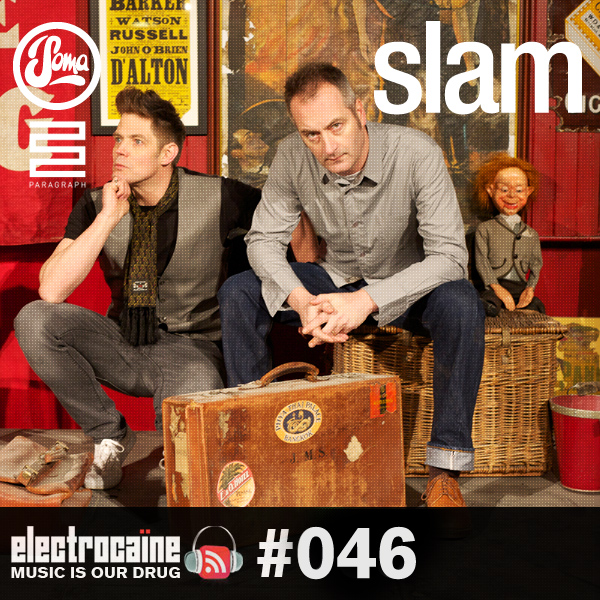 This is a live recorded set.
No tracklist available.
Click on the artwork to listen to 20 years of SOMA.
More of SLAM on: SomaRecords
We trust that electrocaïne listeners need no introduction to the duo called Slam and the wonderful world of Soma Records. In the oft chance that you do, then this mix recorded live from their Pressure at the Arches night in Glasgow and generous interview should get your history lesson going good and proper.
After such an illustrious history in the music business spanning almost every aspect, what are a couple of your favourite projects?
We spent a long time making our 2nd album 'Alien Radio' (which came out in 2001), using vocalists and musicians on some of the tracks and experimenting whilst also developing our production techniques. It was a labour of love to some extent and really shaped us as producers and artists. It turned out into a piece of work that has now passed the test of time. 'Lifetimes', which came from the Alien Radio sessions, remixed by Pan-Pot, was one of the biggest Soma 20th anniversary releases last year.
More recently we are really enjoying the freedom we have allowed ourselves in the studio – with no specific deadlines – mainly making tracks for our Paragraph label and for Drumcode along with some remixes we have been doing. It's very much material for our live and DJ sets and we are road testing new material every weekend on tour or at our residencies in Glasgow and London. Soma are currently compiling the singles along with recent remixes we have done and will be releasing as a compilation double album entitled 'Collecting Data'.
What would you encourage future generations to focus on?
If you are making music then remember that it's a form of individual expression and try to forge your own sound and style – stand out from the crowd and don't imitate or follow. And keep your quality control high. Don't release bland average music. It benefits nobody.
What is your proudest moment?
One must be reaching the landmark 20th anniversary of our label Soma last year. It's been tough at times – being independent and continuing to develop and grow though out that time span is a great achievement for us and the team.
A rather low point in the work was…
All of our back catalogue was destroyed in a warehouse fire started by the rioters in London this summer. Thankfully nobody was hurt and we have small quantities of most things at the office but it's still a sad goodbye to the physical records and CDs, which will never be manufactured again now we are in the digital age.
What are the top 5 influencing albums for Slam?
What are the essential ingredients for making music collaborations work?
It's an interesting time to be asked this question because we are embarking on a new project which involves collaborations called 'Alliances', working with a lot of our peers including Laurent Garnier, Paul Ritch, Pan-Pot and Joris Voorn. We like the idea of working with others and sharing ideas and directions on a track, both sides adding ingredients to the mixture and having a sense of which direction the finished track will go in. There should be a chemistry and a meeting of minds and wills involved in great collaborations.
A pet peeve in the industry? (No names required!)
Everyone is listening to music in every aspect of their lives but nobody wants to pay for the pleasure! It is especially hard for new lesser-known artists. On the other hand too many people are putting sub standard average tracks out there – artists must have more quality control – especially new artists. First impressions count.
What are you guys looking forward to next?
Soma are set to release Slam's 'Collecting Data' double album which consists of 26 original Slam tracks from Paragraph, Drumcode and Figure alongside remixes we have done for artists including Radioslave, Sasha, Christian Smith, Josh Wink and The Black Dog. It's been a prolific 3 years for us – the most prolific since we began making music in fact. We wanted to take stock before moving forward again. During the time we are promoting this release we will be working on the 'Alliances' project – where we collaborate with many artists who share our vision of the direction of electronic dance music.
Can you describe or tell us more about this podcast?
The mix was recorded live at our monthly club night Pressure at the Arches in Glasgow at the end of January.  The place was packed and this section was in the middle of the night. The monthly Pressure party has been happening for 13 years and normally we play with guests featuring over 2 or 3 rooms. Next time we are joined by Maya Jane Coles, Ben Sims and Paul Ritch and the following party will include Ben Klock and Laurent Garnier and will coincide with the 20th anniversary of the first time we played at the Arches venue.
Favourite music in the morning?
Dub and Chill-Out – check out the Soma Coma series. It's compiled from B-sides and album tracks from Soma's catalogue- perfect for many moods and places.
Name us a sunset track
Name us a sunrise track