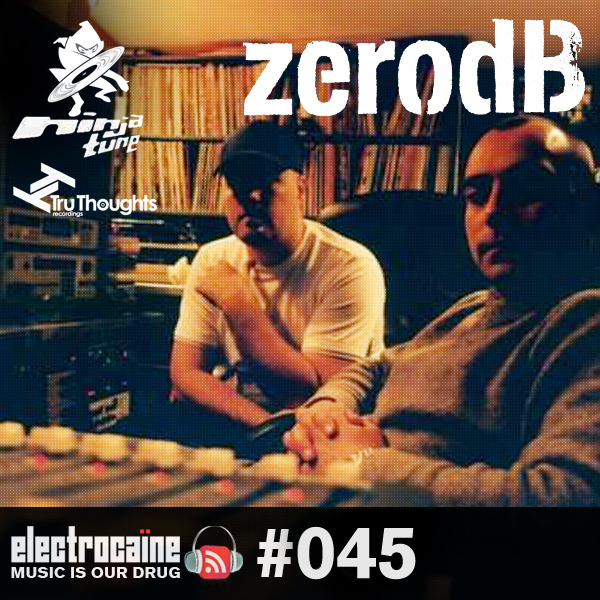 Tracklist
01. The Oki Bass – Journey – Unreleased
02. Peace Orchestra – Henry (Zero dB Reconstruction) – G-Stone
03. Dave Da Gato – El Diablo – Tru Thoughts
04. Truby Trio – Galicia (Zero dB Reconstruction) – Compost
05. Zzouf – No.3 – Tru Thoughts
06. Alice Russell – Universe (Dave Da Gato's F*ck Up The Festivals Bounce) – Tru Thoughts
07. Maurius Cultier – Zouk (Simbad Edit) – Unknown
08. Daedulus – Bahia – Ninja Tune
09. Zzouf – That Drum Track – Tru Thoughts
10. Dark Jazzor – Bel Air Project – 12″ Compost
11. 9 Lazy 9 – Spoonful of Slow – Ninja Tune

Click on the artwork to listen to Zero dB's album
For more Zero dB: www.zero-db.com
From the illustrious Ninja Tune stable comes this exclusive "deep, jazzy voyage" from none other than Zero dB. Neil Combstock and Chris Vogado deliver a classical jazzed out mix composed of truths with funky baselines and a good smattering of hats. Hit play to start your transmission. We interrogate them a little:
When, where and how was this mix recorded?
The mix was recorded 27 Jan 2012 at my studio in Durham City Centre using Traktor Scratch Pro.
Describe this mix in 3 words:
Deep, Jazzy, Voyage
How did Zero dB come about?
Zero dB came about at the start of the millennium when myself and Chris (Vogado) had finished building our recording studio we had in London. 'Come Party' was the first track we made in the new studio and kind of defined our sound right from the start.
Could you tell us about The Fluid Ounce Studio?
It doesn't really exist anymore, I moved to Tokyo about 5 years ago and Chris moved to Barcelona, we have our own studios now, I've just completed building one in Durham and Chris still has his studio in Barcelona. Technology has helped immensely, we can still work together and send stuff backwards and forwards to each other, we still managed to work together when I was in Tokyo and he was in Barcelona, but got together for 6 months to put finishing touches to the last album we did ('Bongos, Bleeps and Basslines').
What is one of the most interesting project Zero dB has been involved in so far?
Probably the Sun Ra remix we did with Gilles Peterson. We were asked to do the remix after the success of the Suba remix we did ('Samba do Gringo') and we're given some original tapes from Sun Ra recordings. We then thought it would be a great idea to ask Gilles if he wanted to get involved in the project knowing how much of a Sun Ra fan he is. He came down to the studio with a case of Sun Ra records he'd collected over the years. We used all sorts of crazy sounds and it ended up being the first track on our Reconstruction compilation we released on Fluid Ounce.
New studio album on Ninja Tunes?
We'll have to wait and see, I'm still always working on new stuff (eg. The Oki Bass, the first track on the DJ mix) and chris is too, we need to get enough ideas together to say, OK, we've got enough stuff to release as an album now, I don't know when that will be though.