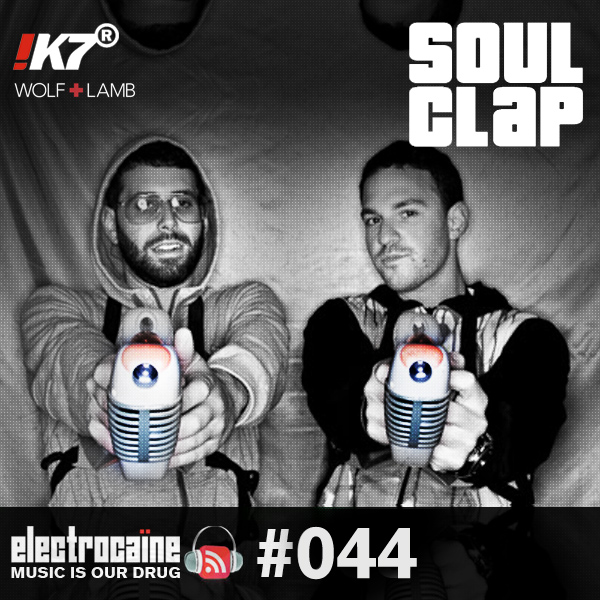 This is a live recorded set.
No tracklist available.
Click on the artwork to listen to Soul Clap's DJ-Kicks
For more Soul Clap: www.soulclap.us
More Soul Clap mixes  on:
Soul Clap is Elyte and Cynce who bring to us their sonic adventures around the universe. Before their debut gig this Friday 20 Jan at Zouk's Velvet Underground in Singapore, the Berlin duo blesses us with a mini interview and this mix live from Miami's The Electric Pickle. Listen during odd hours, after hours, sometime out of time and cling onto the vibe for a spaceship ride with a grin. We interrogate them a little:
When, where and how was this mix recorded?
This set was recorded in July 2011 at our residency at the Electric Pickle in Miami. We always use 2 turntables and 2 cdjs when we perform. Lots of vinyl, no computers!
Was there any particular idea in mind when recording it?
We've basically been resident DJs at the Pickle for over a year so it really feels like home when we play there. This set was in the middle of the summer so we played a bunch of sweaty, sticky jams and of course tried to go on a journey…
What comes to mind when you think of Singapore?
Islands, rain forests and durians. Oh and we heard its really clean!
What can we look forward to for your set in Singapore?
Lots of ups and downs. A winding road through house, disco, funk and r+b. Plus some previews of our new album!
Will it be 6 hours?
We play as long they let us play
Has this year been off to a good start? What's happening?
2012 has been great so far. From beach parties at BPM festival in Mexico to friends' weddings we've had some fun, but mostly been chilling at home in Miami. Singapore is where we really kick off our musical year!