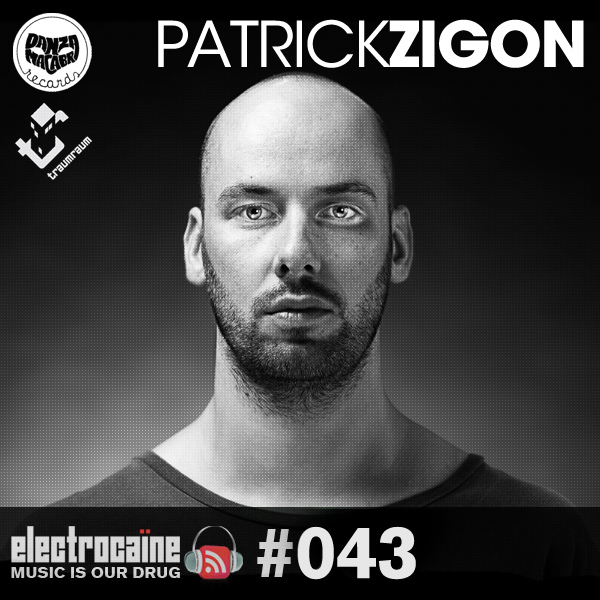 Tracklist
01. James Welsh – Air Valley [Losing Suki]
02. Daniel Bortz – No One [Pastamusik]
03. Arsen1Computerklub – Won't You Come [Enough!]
04. Patrick Zigon – Nevesta (Fog Remix) [Danza Macabra]
05. Petr Serkin – Junkyard [Shanti]
06. Echonomist feat. Dans Mon Salon – The Way [3rd Wave]
07. Little Fritter – Raw Fix [Affin]
08. Naiad – Indoor Space [High Strings]
09. Marc DePulse – Lessons In Dub [Ostwind]
10. EDE – Sitdown People [Adjunct]
11. Werner Niedermeier – Faces (Tom Ellis Remix) [Buena Onda]
12. Marcos Baiano – Nao Amanha [Labella]
13. Slok – Minnie [Electronic Petz]
14. Russ Gabriel – Ginger Pussy (Jamie Anderson Remix) [Artform]
15. Francesco Bonora – I Can Do It [Back And Forth]
16. Little Fritter – Raw Fix (Egal 3 Remix) [Affin]

Click on the artwork to listen to Patrick's latest Album
For more of Patrick: www.patrickzigon.com
Winning fans over one mix at a time, Germany's Patrick Zigon does it again with a gleaming deep diving mix chartering untravelled waters to emerge with precious sonic pearls and dimes. We can almost proclaim that going deep is going up. Bravo!
Where when and how was this mix recorded?
I recorded this mix in my "Traumraum" studio in southern germany. I work with Traktor and Timecode-Vinyls. I play records since 1996, so i still need the vinyl-feeling in my hands ;-)
How would you describe the mix?
The mix shows the kind of music i love and play in clubs where people like innovative sound. Deep and hypnotic tracks from different genres such as deep house and dub techno.
Top 3 weapons in the bag?
Mathew Jonson – Dayz [Crosstwon Rebels]
Marc DePulse – Lessons In Dub [Ostwind]
Patrick Zigon – Black Out feat. Paulo Olarte (Himan Remix) [Danza Macabra]
Who are some of your musical influences?
There are loads of influences, not only electronic music. I love jazz and classical music for example. if i would start to drop names, we'd need a lot of space, so i keep it simple: biggest influence is music that touches my soul, doesn't matter which genre.
Ever thought of moving to Berlin?
Yeah sure i thought about it. A few years ago i've been pretty sure to move there. But i love the place where i'm living. Constance is a small beautiful city near to switzerland and austria, with a big beautiful lake. It's an important inspiration for me, so at the moment there is no need to move there.
What are some future projects of yours we can look forward to?
2011 i started some interesting projects and collaborations. Next releases are the amazing second remix pack of my album "The Alpha State" and a collaboration EP on Tanzbar Musik called "With A Bigly Help Of My Friends EP" with Martin Eyerer, Todd Bodine, Louis Osbourne etc. 2012 i will start my label and will tour the globe, so enough things to do ;-)