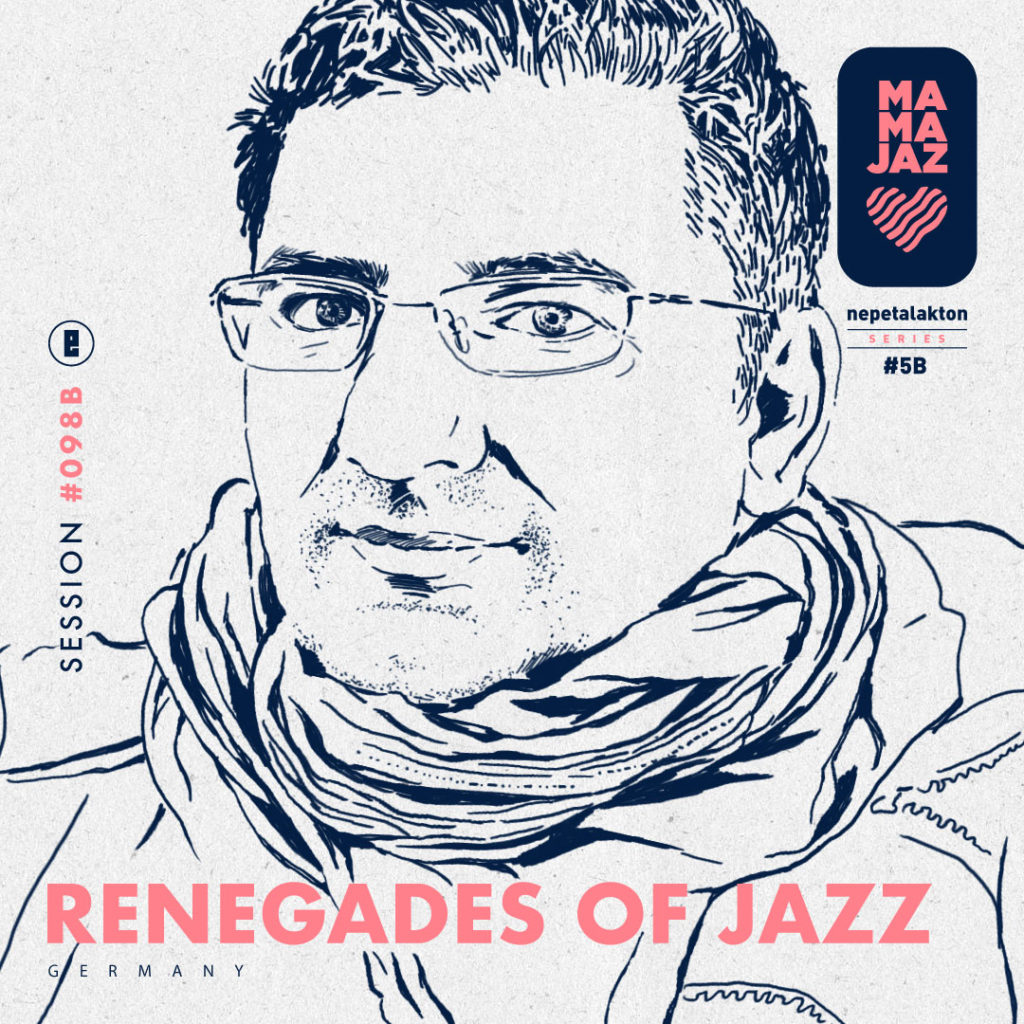 Tracklist:
01 Max Graef – Jazz 104
02 Phil Stroud – Banksia
03 XOA – Heartland feat. Hollie Cook
04 Sefi Zisling – Happy Solar Return feat. Kutiman
05 Emma-Jean Thackray – Rain Dance
06 Dae Han – DC2NYC2 feat. Maryanne Ito, Shing02 & Spin Master A-1
07 Ezra Collective – People Saved
08 Quantic & Denitia – Nowhere
09 WVR BVBY – Watch The Woodgrain Crawl
10 Vanishing Twin – Cryonic Suspension May Save Your Life (Edit)
11 Web Web – The Upper Pt.1&2 feat. Joy Denalane
12 The Polyversal Souls – Invisble Joy


Podcast: Download (Duration: 1:00:00 — 137.7MB)

Subscribe: Apple Podcasts | Google Podcasts | Deezer | RSS



Having spent an influential part of your childhood in Tanzania, you went back in time and close to your heart with your 2016 album 'Moyo Wangu', which translates as 'my heart' in Swahili. Could you share with us a fond memory you have during your time in Tanzania?
There are so many! It's hard to pick one. I remember the Bazar on Zanzibar very well – all the spices, the vivid crowd … all very impressive.
How much do you agree on whether the period of confinement helps with being creative? Or does it lead to boredom?
Yes, I think the creatives will be gaining more output during this time. As for me, working from home for sure is an advantage, having internet and grateful for being able to continue making music on my own. I am never bored in life, as I have always been in the position of making things happen.
What message do you have for jazz lovers?
Copy – Transform – Combine
More Renegades of Jazz:
renegadesofjazz.com • soundcloud

Listen to the Side A of this Nepetalakton session with Victor Kiswell
It is with the greatest pleasure that we present the one and only David Hanke aka Renegades of Jazz as part of the Nepetalakton series. With an exclusive mix for the electrocaïne sessions as part of the MAMA JAZ festival, the only jazz month of the southern hemisphere!
David's signature sound of raw and heavily produced music fuses jazz with breakbeat elements.  Renegades of Jazz brings it back to the dancefloor.
Get some insights into David's methods and forthcoming projects on the majestic Bathurst label under the guises: Keno and the Motion Orchestra.
Happy Jazz Day!
What is the latest jazz concert or band that struck you and why?
I think that was the Portico Quartet at the Mojo Club in Hamburg. They simply give a good show.
How was jazz introduced to you?
I first started listening to old jazz records from my grandma.
How did you pick this moniker? What's the story behind?
Quite direct. I was looking for a fresh name, obviously – one not already undertaken. I played around a bit with some ideas and at the end, I came up with this.
Do you recall the first time you took up the decks?
Yes I remember this. I played for 5 guests, and I recall being pretty nervous at the time.
Do you think striving for perfection is a good attitude when making music?
You will never reach perfection, but trying to reach it is a good start.
Your mix features amazing movements from artists such as Kutiman, Ezra Collective and German jazz band Web Web! What is your process in which you keep up with new releases, do you have a music-discovery routine that you could share with us?
I happen to get a lot of promos from artists and I explore Bandcamp every day.
From an artist's perspective, which music platform do you think works best?
Bandcamp is my favourite platform for getting new music and releasing my music. Regarding tracks that are still a work-in-progress, I use Soundcloud as I'm able to keep the music private. From there I can share it with others until it's ready.
How did you meet or stumble upon the artists featured on your album "Nevertheless"?
I never actually met them in real life. I somehow knew them through the web and asked them by email if they would like to collaborate on a song. Luckily, they said yes!
Your discography throughout your various monikers spans on a wide scale! Can you share with us a couple of your own favourite projects?
At the moment I'm concentrating on my downtempo project Keno. I've done a new album under that moniker with Tristan de Liège from Los Angeles. Also, The Motion Orchestra are currently working on an album. Check them on my record label www.bathurst.de.
What are the 2 latest jazz records that you purchased?
'Sky So High' by Soulphiction and 'Second Language' by Minor Science. The Soulphiction track is just a great piece of Techno. It's just a bassline and some hi-hats – and that's it!