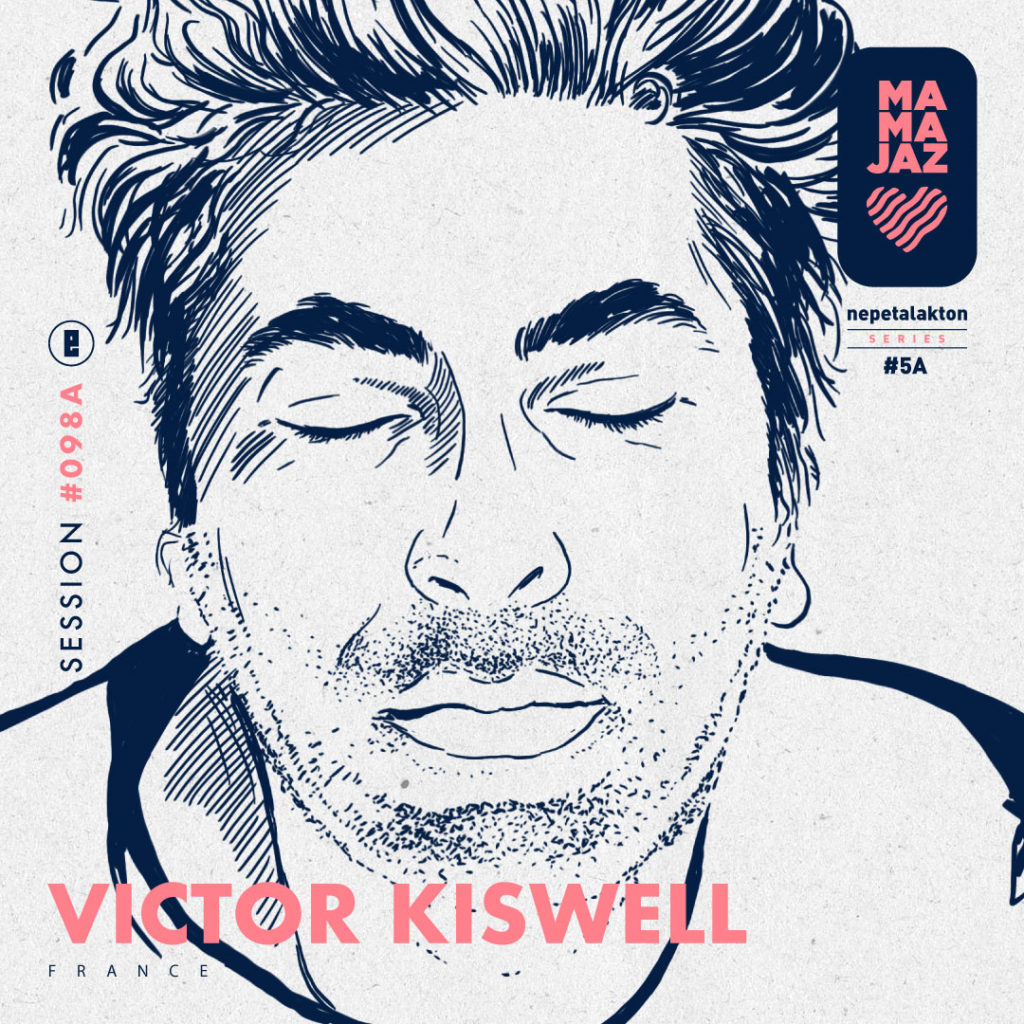 Tracklist:
N/A


Podcast: Download (Duration: 2:01:58 — 279.5MB)

Subscribe: Apple Podcasts | Google Podcasts | Deezer | RSS



Which country turned out to be most fruitful in terms of records collected and which genre were those?
There are records almost everywhere on earth, but there are some countries where records are easy to find and are still cheap. You can dig in India or Colombia, you will find a lot of great music at cool prices. With the internet, everyone now knows there's a business with the records, so the prices went up in every part of the globe. In Russia, for example, where records were super cheap in the early 2000s but no more. Or in the Arabic countries, before the collectors from the Gulf came, or the tourists. France remains the best place to find a great variety of music at an affordable price if you move your ***.
How essential of a role does an album artwork have in your process of digging?
When I was young sleeve design was very important, but at 25 or so I discovered library music with very minimal design and I revised my judgement. I also found out that a bad cover may hide superb music. The records are just a little bit more difficult to sell eh eh
What is your definition of a 'fusion' genre?
"Fusion". I hadn't heard that word for long. Never used it too much. I always considered that it had a bad reputation here… To me the combination of jazz and rock is a sin. There was a trend in the late '70s and early to mid-'80s but it's now forgotten, for some good reasons. And the term "fusion" disappeared from the music vocabulary. BUT I always highly appreciated music that mixed diverse and foreign influences. Such as sitar groove, or jazz with Japanese traditional instruments, afro or West Indian electronic funk… Never called it "fusion" though.
Which mixing and listening equipment are you dedicated to at the moment?
I might have the worst set up in town. Like we say here: "Shoemakers are always the worst shod", ah ah. Ok, I have two old MKII, a Harman Kardon, two big Bose, and an old and defective Gemini.
Are there any records that you wanted but couldn't salvage?
I found many records that were broken… Where it is only a small bit that's missing, that affects only the first track on each side and not the best tunes, then I might take it. I think I have an album by Les 8 Trèfles that's broken, but I can play it: the killer track is at the end of a side… I don't buy trashed record. What 's the use? Maybe I take the cover only, to use it in case I'd need one. It's useless. Frustrating. Depressing. And there are so many records on earth, I concentrate on those that are still in excellent shape, even though they come from rough countries…
Browsing your compilation on Discogs, we found that Victor Kiswell is actually a chosen monicker of yours, is there any particular reason you've chosen this name?
Yes, indeed. I wanted a "real fake name" when I was something like 23-24. Fed up with all these DJ this, DJ that, that is not relevant unless you have strong technical skills. I wanted a name that could sound like the name of the character from a novel. An adventurer. Honestly, there are days I'm proud of it, days I'm tired of it.
When did the 'Victor Kiswell Archives' start?
It started something like ten years ago. For copyright reasons my channel was closed so I had to reupload everything! I don't upload regularly though, it could be nothing for six months, then 5 tunes in a week. For no particular reason. It's just the mood.
Bollyjazz, Senegal Afro Jazz, South African Jazz, Indonesian Exotica Jazz and more from the Victor Kiswell Archives:
More Victor Kiswell:
Listen to the Side B of this Nepetalakton session with Renegades of Jazz
For the celebration of the International Jazz Day in context of the MAMA JAZ Festival, the electrocaïne sessïons have the utmost pleasure of welcoming the one & only Victor Kiswell on the Nepetalakton Series!
Known as the Samples Dealer, this artist's services span to the reach of Madlib, François K, Q-tip, Gilles Peterson and more. He is renowned for being the intermediary in discovering rare and forgotten records and putting that music into the hands of producers who in turn give a re-definition using their own styles.
Outside of his record-digging schedules into the bazaars and unique spots across Lebanon, Columbia, Egypt and India; Victor has been a host on NTS radio & Vinyl Bazaar, co-founder of the music discovery app Radiooooo and he runs his rare-record shop from the Paris' Centreville. Buckle up for a specially selected jazz mix full of zest by one of the best!
Happy Jazz Day!
What is the latest jazz concert or band that struck you and why?
I went to Ziad Rahbani's concert in Paris… I wanted to see him for a while and was invited to play to open his show. He was in the mood to do a tribute to Joe Sample – one of his major inspirations- and barely played his own Arabic tunes. It was great to see him though. So the best live I've heard and seen recently was probably the old, talented, and still amazing Joao Donato, also at the New Morning.
How was jazz introduced to you?
I must say my parents did almost nothing for that when I was a kid. They were more punky funky new wavy. The only jazz we listened to was probably Miles Davis, considered as a dark god, so it was the only jazz thing that we had at home (I remember the covers of "In a Silent Way" and "Ascenseur pour l'échafaud"). When I grew up I went first to discover the fusion/funk side of jazz, the groovy side… Miles' "On the Corner", Herbie and The Headhunters, some Blue Note, CTI, Groove Merchant, Kudu, when I was 20. Then I discovered European jazz, especially from the East, thanks to a couple of friends. And then MPS, Strata, Black Jazz, and the private labels, between 20 and 25… Before Youtube and all the internet. At that time if you wanted to listen to a record, you had to buy it…
We just got off listening to wonders from Ziad Rahbani and the likes based on your recommendations. How much do you think jazz is present amongst oriental music?
There are not many occurrences of jazz in the Middle East. Salah Ragab was a real jazzman, he met Sun Ra and they recorded a few albums together, Ziad was more influenced by US jazz-funk. Let's face it, jazz was more present in Turkey or in India. There are jazz elements introduced in the Arabic music, though. But it's difficult to track down. It's way easier to find American jazz-influenced by Arabic / oriental music, such as Ahmed Abdul Malik. Something that could sound like him is Rabih Abou Khalil, but his records were released in Europe… To play jazz you need a drummer and a bass player. And in the Middle East drummers did not play jazz. Or at least not the jazz you would expect and need. I would say that "oriental music" influenced more jazz than jazz-influenced "oriental music". But it's not a surprise, knowing what jazz is.
On a rare jazz music perspective, which records stores would you best recommend us to travel to?
There are some in Sweden, in Stockholm, I was amazed by, such as Andra Jazz (an old institution) and Recordmania (more dynamic and hip). But it was a long time ago… A few in Paris too, but the real jazz stores closed. It was difficult for these shops, especially ten years ago, when no one was listening to jazz anymore, so most of them closed. Now with the new trend shops that were selling funk are selling more and more jazz, such as in London. But the records do not stay in the crates as it's really really trendy over there. For jazz, it is commonly admitted that the best shops are in Japan.
With reference to your boiler room session, you may be the most chill disk-spinner out there, we have to ask what is your headspace behind the decks and how do you go about with your selection for a mix?
Yeah, that boiler room session was special. I wanted to play mid-tempo Arabic tunes in a beautiful set, without any dancer behind me. That is unique in their history, and I am very glad we did it this way. We did not get the best audience of course, as people were not ready for that but I'm proud of what we did.
For the selections, I always adapt to the venue and the country I play in. I might have some tracks that I play regularly but I always add new tracks, depending on the culture of the audience, and my versatile mood.
Which instrument would you have loved to be an expert at and why?
I would have played bass and drums, the rhythm section. I would have been funky as hell! But I have two left hands, so I have no regret in the end. I would love to play the flute like a god, too. But unfortunately, solo flute is annoying to many. I also love Fender Rhodes… But that's another story… Anyway, if I played an instrument, I would play all the time and would do nothing else, which is not funny in the end.
What's the most exorbitant price you've come across for a record? and what do you think makes the reasons for high prices for vinyl disks?
You mean "high"? I've seen very high prices those last years… With the internet, everyone wants the same records, records that become "cult". It could be afro-funk albums, Italian library music, psychedelic or rare jazz. Two possibilities: the record, unknown before, is hyped by a trendy DJ. Or the record was cult in the past and appreciated by a small amount of collectors but is now on every newbie want list. And the trend to see Discogs as the only place to buy records added a lot. The Discogs trend killed the prices, and I know what I'm talking about… It's easier to ask 1000$ for a record on a website, rather than in a real shop.
In the process of 'excavating' music during your expeditions, what would you deem as the essential mind space to have when listening through the records?
I really barely use my phone when I go digging. I use my memory and my ears.
How light do you need to travel on your record-collecting journeys?
OK, right, my memory, my ears… and a portable turntable.