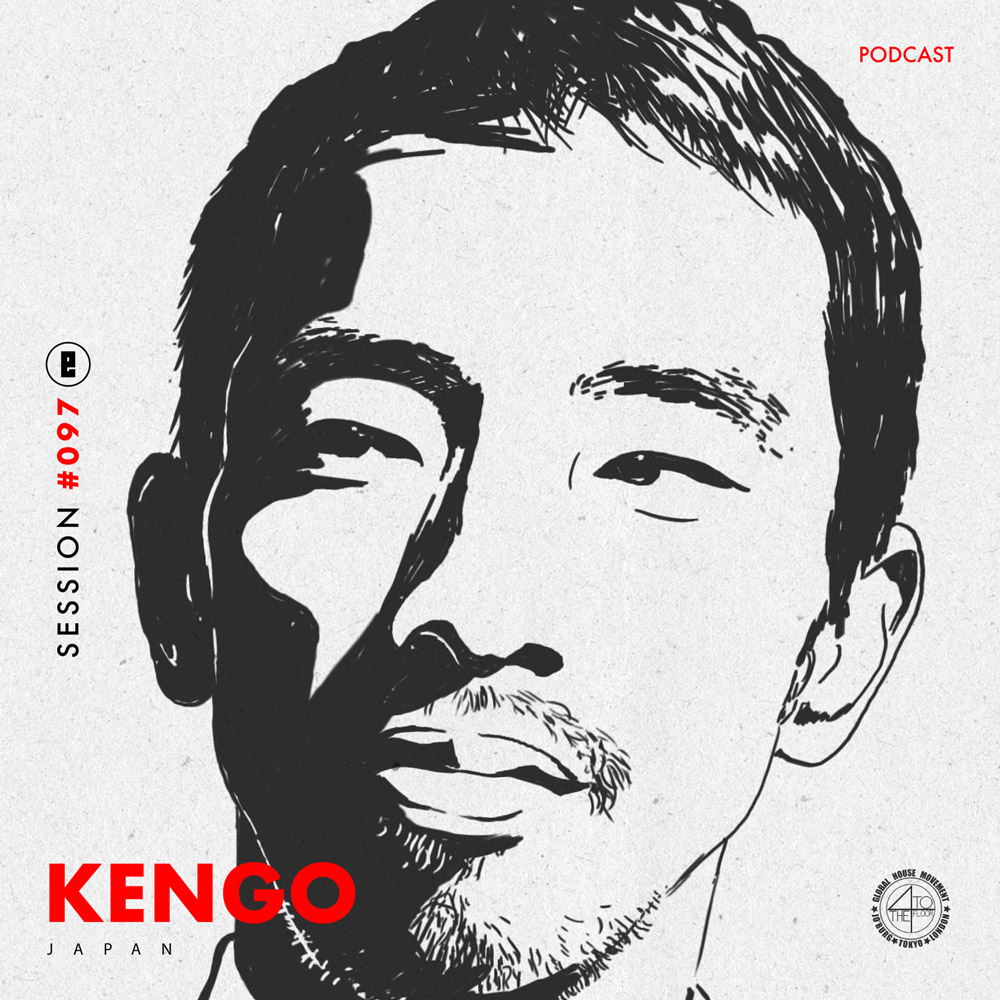 Tracklist:
Manabu Iwamura – Il Viaggio Spazial (Yukihiro Fukutomi Remix)
Caesaria Evora – Miss Perfumado (4Hero Remix)
D.Y.A – La Didado
Clap! Clap! – Ar Raqis (Medlar remix)
Alessandro Ghassemi
 – Chakra (Mavee remix)
Unnayanaa – Taht Min Aini
Ivan Conti – Bacurau
Carlos Torre – El Santisimo
Paax / Themba – Djorolen (Themba's HERD extended mix)
Pablo Fierro – Tel Aviv to Casablanca
Shuntaro Tanikawa – Ikiteiru To Iukoto (acapella)
Gabriele Poso – Cumbachero (Pamel remix)
Roy Ayers – Tarzan (Osunlade Yoruba Soul mix)
Logik Lee
 – Bate Tambor
Sons of Kemet – The Long Night of Octavia E Butler (BLcKBLT edit)


Podcast: Download (Duration: 1:01:07 — 141.0MB)

Subscribe: Apple Podcasts | Google Podcasts | Deezer | RSS



Do you ever play a tune in your mixes that you can't dance to?
If it's in a club environment then no; I might give the dancers a break by playing some drumless stuff or play tracks with long intros but I'm a "dance music" DJ after all. In terms of DJ mixes online or curating music in general then it just depends on the intended purpose.
You've also acted in films! And as a cave-dwelling monster especially; what made you a potential candidate for the role?
I think you mean the Descent 2. I smashed that audition – I went and rented out Part 1 (back in the days when you had video/DVD rental shops) and studied the monster movements and practised it. I was the only one that rocked up in a pair of speedos (the monsters are naked) and I knew I'd nailed the audition because the director kept on giving me different directions to try out. More recently I've done bits in Cuban Fury and Horrible Histories – Rotten Romans which will be released this summer. Films, TV, advertising jobs – it was all part of being a dancer and being registered with an agent. They just send you to auditions – sometimes you get the job, sometimes you don't – but it's all fine because I'm not trying to become an actor.
You are often referred to as Kengo-san and have roots in Japan, How did the process of moving to the UK happen for you?
I moved to the UK because of my father's work when I was 6 years old. I went to a local school during the week and a Japanese school on Saturdays for the language and culture where apart from the studies, we'd swap comics, Nintendo games and videos. All my family eventually returned to Japan but I ended up staying in the UK. I've always felt very Japanese growing up here, more so now than ever and I go back to Japan two or three times a year. Because the UK doesn't have a history of immigrants from Japan, there's no solid community as such, or role models for that matter which I feel is a pity. First generation immigrant, third culture kid, bi-cultural – there are many labels for who I am and eventually, I'd like to be able to communicate that story through my work.
You have a lot of tour dates coming up, how do you keep fit and healthy?
This year I started doing yoga regularly and that's helped to stay healthy both mentally and physically and also give regularity to the irregular lifestyles that most DJs and producers are subjected to. Even though I might have had a late night, I'll try to make it to the yoga session in the morning and it helps just to regulate sleep patterns and maintain a routine. I love to surf so I try to swim as and when. I think the music industry, especially in big cities like London, can be really tough, from the stress of making it financially viable, competition, insecurities both personal and as a job can affect your mental health, compounded by being around drugs and alcohol, loud volumes etc so I think it's important to maintain that fine balance and make sure you don't burn out. It's a blessing to be able to make money from music but I'm also aware of keeping things in perspective.
A word to aspiring DJs and dancers in Mauritius?
Just do good work to the best of your ability! 
If you want to be extraordinary you have to spend an extraordinary amount of time working on your craft.
More Kengo:
RA • soundcloud
Embarking on the music scene through DJing and streaming through his passions with grit,  Kengo Oshima sets up an afternoon session with diligent groove selects painting his current vibe, and taking you for an hour into his musical journey; upping the volume for our latest session.
Kickstarting as part of the Cuban Brothers, Kengo expands as an artist under the monicker BLcKBLT and also co-founded the 4 To The Floor collective, hosting a weekly show on Soho Radio London and running an awesome monthly party in London.
Which came first for you, techno or house music?
House music. But to me, house music is still uptempo soul music, even the non-vocal stuff. I've always seen it that way. Also, the way I got into house music was through house dance – it's only when I started to dance to it that I really got into how the repetitions and loops build up the tension and then there's a release – it's very dynamic. In terms of influences, I was in rock bands at school playing the guitar and then as I was in my teens I went through a "world music" phase where I was buying stuff like Real World and Word Circuit Records – Malian music, Bulgarian choirs, Mongolian folk music etc. It completely opened up the world to new rhythms and sounds as well as playing music in a much bigger picture beyond just entertainment.
What led you to first take up the decks?, and what was your first time DJing like?
I was definitely into turntablism – I think it's just very generational – growing up with seeing DJs cutting it up on hip hop videos. It was the lowkey important guy – he's not centre stage like the rappers, but he's doing solid work. That's me. 
When I felt I was ready I went to my local pub and asked if I could play there so I played there on Sundays for a while, 8-9 hours at a time in return for food and drinks. But my first gig I got booked to play was at a night called Pause ran by Eric Lau. I loved it.
Your mix starts out with enchanting vocals from Cesaria Evora and building up to deep grooves from Carlos Torre and Pablo Fierro! How do you usually come up with your selection, and give such moving flow into your mix?
Although I run a night called 4 To The Floor, I like to keep drum patterns quite varied so I throw in stuff like jazz and broken beat which helps to keep the house beats more driving. Also, I'm a sucker for anything catchy – not just vocal melodies but even basslines and drum patterns so they're an important part of the selection. The drummer Bernard Purdie once said that if you can make people hum your drum beat, you've got them.
You're also hailed as BLcKBLT ! what does this monicker mean to you and which creative endeavours of yours fall under this side?
I started producing through making edits – extending intros, adding kick drums and filters, so it's mainly an edits/remix project. At the time, I was just starting out so I didn't feel comfortable with people knowing who I was so I came up with something that was suitably Japanese enough but something people could form their own interpretations about.
In alignment of being a DJ, you also have killer dance moves! How were you inspired into dancing and learnt the moves?
At uni, I went along to this community dance class ran by 2 old school b-boys and that was the start of my dancing career. It was just a fun thing to do but the more I did it the more I got into it. It was also a great way to travel because in every city there was a community of dancers. Back then we didn't have youtube so we all had VHS tapes we shared and we had to travel to witness top level b-boys. It was a huge part of my life for a long time and definitely helped me understand groove much better.
You've co-founded the collective 4 To The Floor, pushing forward and providing a space for the dancers and music heads of London. Could you share with us one of your best highlights of the dance events?
As mentioned above we run monthly parties – it's a unique space with an incomparable vibe – a dark room where everyone is dancing and really bugging out to the music. We've had big DJs hitting us up when they can come and play – because when you have a crowd of dancers it creates a very immediate relationship and an energy exchange with the DJ that other dancefloors just don't have. We've had Carlos Ruscellada from Brazil say that "one of his DJ dreams came true when he got to play 4TTF" and Kid Fonque from South Africa said that it was the best party he played in 2018 so we're super flattered and grateful that we've all come together to create this unique environment. All the parties have been special, from working with big guests like Osunlade, Boddhi Satva, Djeff, Atjazz etc to our monthly parties which are always unique because each DJ brings something different.
And you guys also host a weekly show on Soho Radio! Could you share with us some of the 4TTF sessions we should definitely not miss out on?
Gosh – we've done over 200 shows over 4 years so it's difficult to pick! I guess my personal favourite is my interview with Peven Everett where we actually got to talk about the back story behind the track "Gabriel" and my chat with Danvers because we got deep about producing. We always post sets from our parties too so those are always great for those that want straight up music, and we always have guest mixes from the guests we have. Musically Frankie Valentine and Kyri from R2 records have been my favourite guest mixes.