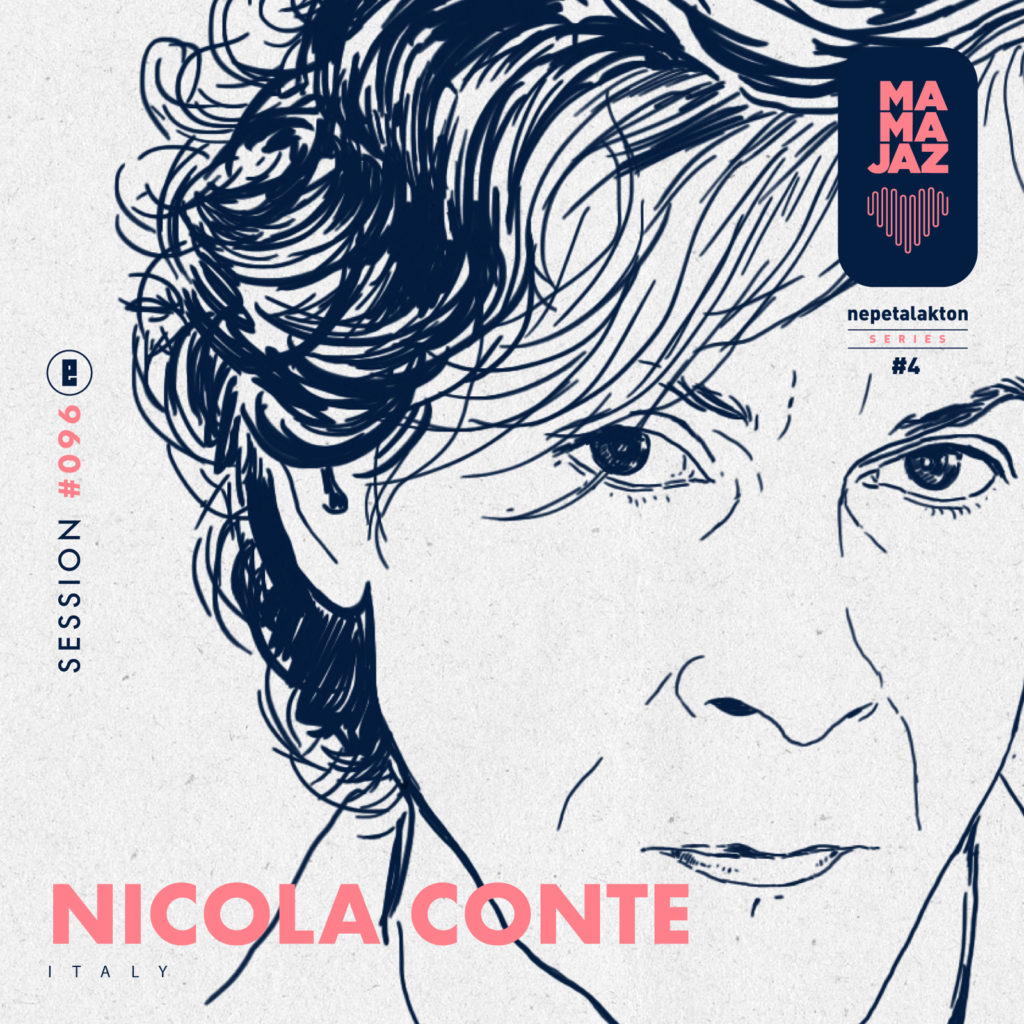 Tracklist:
Intro – The Ensemble Al-Salaam [Strata-East]
Don Cherry – Brown Rice [EMI]
The Michael Garrick Sextet feat. Norma Winstone – Temple Dancer [Argo]
Tony Scott and The Indonesian All Stars – Burungkaka Tua [MPS]
East New York Ensemble – Meviana [Folkways Records]
Yusef Lateef – Love & Humor [New Jazz]
The Beaters – Harari [Sun Records]
Rolan Brival – Creole Gipsy [FM Productions]
Billy Parker's Fourth World – Dance Of The Little Children [Strata-East]
Johnny Hartman – My Favorite Things [Capitol JP]
Lighthouse Plus One – Ashie [Judnell]
Will Crittendon – Message From The Third World [Rynard]


Podcast: Download (Duration: 1:04:00 — 148.0MB)

Subscribe: Apple Podcasts | Google Podcasts | Deezer | RSS

What do you feel has been a precursor that led to your widely open approach to numerous music genres?
I'd like to think of me as an open-minded human being, a citizen of the world, aiming to be connected with different culture and constantly searching for new horizons.

You are the bandleader of Spiritual Galaxy! Have you pulled artists from influences or traditions of jazz?
The Spiritual Galaxy is an open unit and gathers from a large circle of friends/musicians who I have been working with over the last few years: An ensemble which floats, impressed by the different personalities and evolving according to a collective vision.
Your first works Jet Sounds and Bossa Per Due were released in 1999, and since then you have been releasing numerous works. Over the years, how would you briefly describe the change in music and your approach to production?
It just got wider and deeper I guess, there are phases in my art and the music and the production move on according to that. From a full analogue setting into a live or electronic frame.

It has been mentioned that you drew melodies from Italian film scores of the '60s into your music, which are those films?
That is a sort of ongoing thing which it does not really belong to what I have been doing over the last 15 years or so, very annoying.
It was true when I did JET SOUNDS.. over the '60s and 70's Italian movie industry was at the top and defining a unique style from the designers, directors and composers. A huge number of exploitation movies was made and the sounds of soundtracks were full of impressive melodies, crafty arrangements, killer grooves from jazz to bossa to funk to psychedelic western vibes.
You've also put out 5 volumes of the Viagem compilations! How did your interest in music lead to the lost classics of 60's Brazilian music and Jazz Samba?
For quite a long period of time alongside my passion for jazz I explored other forms of music which were drawing a lot of inspiration from Jazz, Bossa Nova and Jazz Samba became a fixation and, shortly after, a trademark for my sound. As a record digger so I've been collecting records of Brazilian 60's jazz and the likes. When Joe Davis of Far Out asked to put together a collection of tracks from the RGE catalogue, I simply looked in my collection and the first volume of VIAGEM was born.
This year's main feature on the Nepetalakton Series in context of the only jazz month of the southern hemisphere MAMA JAZ brings on board jazz virtuoso Nicola Conte.
MAMA JAZ reaches their high ending note for 2019 and the only jazz month festival of the southern hemisphere celebrates the International Jazz Day with a very special session, and our main feature of the Nepetalakton Series; an hour-long mix of mystical jazz, with a dose of tribal and spiritual 70's vibe, from the multi-versed virtuoso, producer, composer, bandleader and DJ Nicola Conte.
Mr Conte currently leads the Spiritual Galaxy Band and recently released his jazz-infused Free Your Mind EP on Schema. To add, his enormous discography ranges on a 20-year span of music releases, housed on labels such as Far Our Recordings, Schema Records, MPS, Universal Music and Blue Note.
For this session, recorded at a studio in Bari, Mr Conte proposes carefully handpicked tracks, all taken from original issues vinyl albums, and narrates an hour-long story about the musical atmosphere he currently dwells in.
How and around when were you introduced to jazz?
That was during the time of my University days, it was a natural evolution running parallel to my readings of that time. A cultural and spiritual evolution.
You have had classical formation and you're a DJ, which came first and when?
First the classical guitar and then my first experiences as a DJ.
What led you to take up the decks?
It happened almost by chance as one day, I was invited to play at club Happening, very black music oriented and I felt the vibe of the people so strongly so that it stuck into my soul.
Could you share with us what the Fez Collective was all about?
Long story, I dare to say it was mainly a bohemian, intellectual circle of friends which aimed to make a statement about an alternative cultural approach in music and club culture of the 00's when it came into existence.

Your mix takes from the likes of Don Cherry, Turkish sounds from the East New York Ensemble de Music to the soul moods of 1980's Harari. Could you share with us a way in which you come up with your selection before a DJ set?
The mix portraits my current vibe in what I like the most in music as a record digger… deep spiritual tribal sounds from east to Africa to esoteric sounds. That reverberates also on my choices with contemporary sounds. Actually, it is not Harari but The Beaters, which later became Harari, and that track is taken from a '75 album called Harari.. so its definitely a 70's sound happening there.
What is the latest jazz concert that impacted you and why?
Charles Llyod Quartet… Black American music (jazz) open to a wide range of influences… deep, communicative, creative and groovy.
You're back with Gianluca Petrella and Bridgette Amofah on Free Your Mind EP out this week! With Bridgette Amofah's vocal path hailing through the high notes on Imani River along with your ever fabulous instrumental palette. How would you describe the aural energy that Free Your Mind brings about?
Somehow this current project with Gianluca is also linked to the live band album for MPS. On these tracks, the feeling is spiritual and tribal but it has many colours so you won't hear one thing over and over but different moods and rhythmical patterns. New World Shuffle has a darker tone but the vocals are very dreamy while on Imani River, which sounds brighter cause of its tonal Fminor,
 the vocals of Bridgette are more dramatic. I think both could be a good introduction to the whole album, which is in the making.
What's the place/region you find most appealing and mind-soothing in Italy?
Mostly southern regions to me, my own Puglia, Sicily, Sardegna.
A friend of ours once caught you playing a tremendous 7inch set for José James in Paris around 2010, was that a special 45 rpm vinyl session? and could you share with us some of the 7inches that you love?
I remember that night in Paris, I'd like to collect jazz 45's but also soul, deep funk, afro and the likes. The sound of a 45 is much bigger in clubs that the album versions. Somehow the 45 sets have been quite a distinctive thing for me.