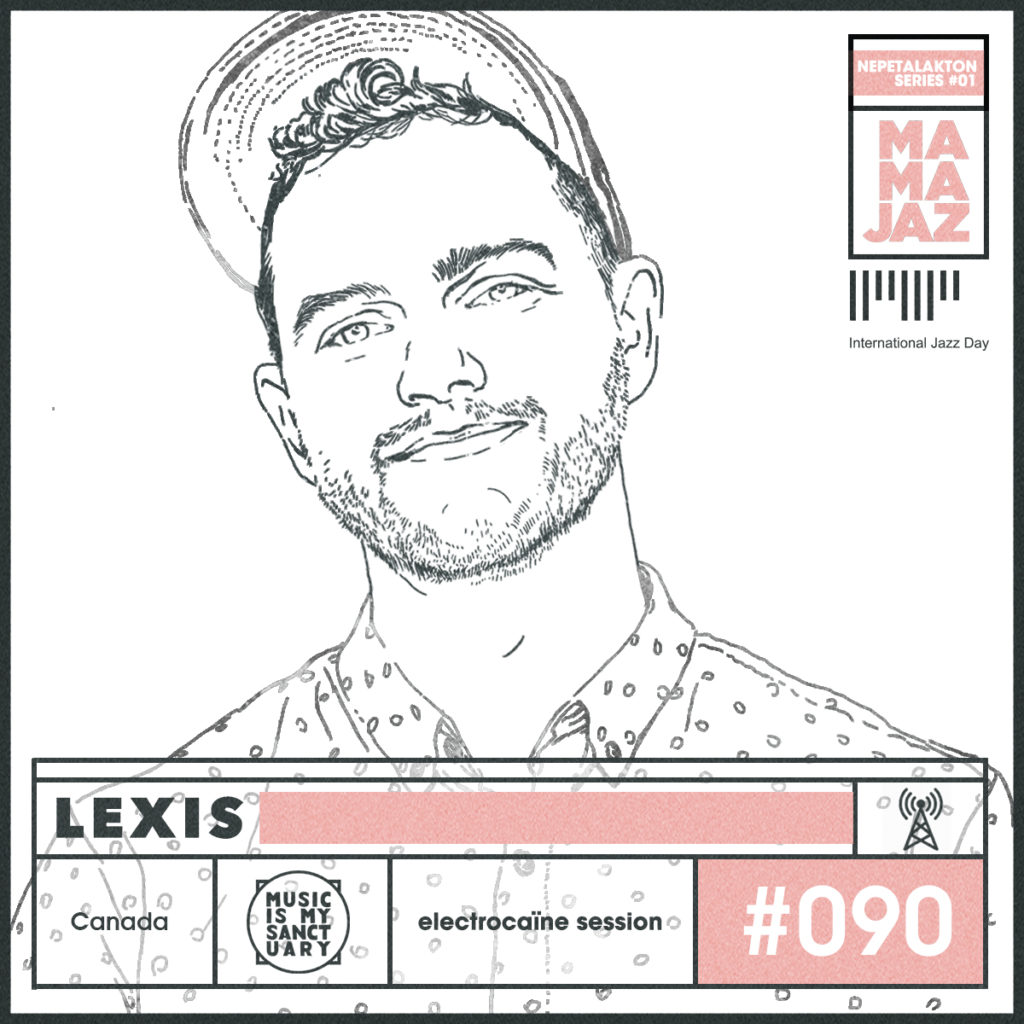 Nepetalakton session #01:
Moodymann – Pitch Black City Reunion
Colours That Rise – Brain
Kerem Akdag – Steppin Out
Jitwam – WhereYouGonnaGo?
Volcov – Takes Tomah
Chaos In The CBD – Observe
Sameed – Dusty Jazz
Turbojazz – OrangePeelSkin
Javonntte – Jazzmatazz
Pablo Valentino – My Son's Smile
Boo Williams – The Place Of Safety (Saxaphone Mix)
Zen In Space – Sahara Groove
Henry Keen – 70's Baby
Byron the Aquarius – Song for a Friend (feat. Copper)
Bellaire – Jazzy Things
Nubya Garcia – When We Are (K15 remix)
Reggie Dokes – Jazz is My Mistress
Glib'r & DJ Sotofett – Foliage (DJ Sotofett live Jazz mix)
Tenderlonious – In a Sentimental Mood


Podcast: Download (Duration: 1:24:05 — 193.0MB)

Subscribe: Apple Podcasts | Google Podcasts | Deezer | RSS
More Lexis:
Introducing our collaboration with MAMA JAZ, the Nepetalakton series, an ode to jazz and its influence on other sounds. Artists and friends around the world have been excited to bring their own touch to this series which we are launching on this year's International Jazz Day with a pillar of the Montreal music scene. Active for over 15 years, versatile DJ, influential tastemaker and respected record digger, Lexis. In 2007, he founded Music Is My Sanctuary, one of most respected independent music websites in the world, in 2007. He crafted a fresh jazz influenced house selection which brilliantly kickstarts Nepetalakton.
In our sense, a series which is meant to stimulate jazz cats as we reach for their pineal glands through their ears. Jump on board and enjoy the ride cymbals!
Tell us how you recorded that mix and what was on your mind.
We organized two nights at the Montreal Jazz Festival last year called "Jazz Is The Teacher". So when you guys reached out I thought it would be interesting to do a mix inspired from it. Basically how Jazz has influenced contemporary dance floor oriented music. In this case the mix is mostly focused on jazz influencing house. Had to choose one because obviously jazz has also influenced hip-hop, techno, r&b, garage, broken beat, etc.
How did you get into music?
Well for as long as I can remember really. From the age of 8 to 13 I went to a music concentration school where we were doing as much music as academics. I eventually changed course and focused more on sports than music but I kept buying records non-stop since I was about 14 years old.
You are obviously a music lover and MIMS knows no boundaries in terms of genres. When it comes to DJing are there any types of music you prefer working with more than others? Or let's simply say where are your strengths?
Yeah I am somewhat of a chameleon, which doesn't mean that I don't have my own style. I just like to approach each gig and each mix like a seperate project and try to find what I have in common with it. In terms of areas of focus in goes from old to new and from electronic to organic. Jazz, Soul, House, Disco, Techno, UK Garage, Broken Beat and of course I am a hip-hop kid at heart.
How's the scene in Montreal?
It's a great scene considering it's not the biggest city (2-3M). It's definitely focused on festivals and "big events" and sometimes tends to forget jazz outside of the 2 weeks of the jazz fest for example. But all in all, it's a great place to be an artist because the cost of living is fairly cheap. There is a little bit of scene in everything which is nice.
We're celebrating jazz month. What has been the influence of jazz on your work?
I can say my relationship with jazz gets closer every day, every year. Like many hip-hop lovers, I grew up listening to the samples and working my way back from there. But now as I get older, jazz is probably the music I listen to the most of in my house. Jazz can be a little bit intimidating to get into at first because it's so vast and also because we tend to over intellectualise it and speak about it in academic terms. The more you listen to it, the more you discover the type of stuff you love and at the end of the day it's all about how it makes you feel.
A tricky one. For every record has a story, if you were asked to pick only one jazz record what would it be and why?
Tricky indeed! Well I won't go necessarily with THE jazz record for me but the most recent one I fell in love with: Adelhard Roidinger "Computer & Jazz Project I" (1984, Thein). I was looking for it for a couple years and finally found it. It's an Austrian Fusion, Experimental record that incorporates Electronic elements a little bit like Herbie Hancock's great "Dedication" album but in this case the lead is Roidinger's Bass instead of Herbie's piano.
Beyond being just a website how would you describe MIMS? What do you want listeners to take away and how did the website come together?

Whether it's our website, radio shows or events, ultimately what is our first mission is to curate and present music that deserves to be heard. If through our various projects you discover a track or an artist that makes your day, then our job is done!
We've been dying to ask this one. Was the website named after Gary Bartz' 1977 record?
I absolutely love that record of course but when I launched the website in 2007 I think the phrase just popped into my head, I had seen it used elsewhere like an old Danny Krivit mix CD.
You're also involved with 24Hr Vinyl, Tell us a bit about this event/project.
It's a passion project that we launched in 2011. We've organized 18 editions in cities like London, San Francisco, New York, Paris, etc. It's a celebration of the love music through vinyl culture but also as we move around to those different cities, we only book local dj's from the host city so the event also ends up being an exploration of the "sound" and music history of that city.
You've done a TED talk on the crucial role of record diggers in the preservation of musical and cultural heritage. How do you see the future of this community and music curation in general?
Another tough question! The digging community kept vinyl alive from about the early 90's to around 2008 when the "revival" started happening. It's easy for us vinyl nerds to bitch about Record Store Day, reissues and so on but at the end of the day we should be happy that the vinyl scene is healthier than it's been in years. If shops and artists are making a little more money selling records then why wouldn't we be happy about that. As far as the music industry and the state of music curation is concerned that is another story.
Do you have any upcoming projects/collabs?
On tour in Europe from April 26-May 14. Working on a new talk titled "Music Discovery is Broken", also working on a book at the moment. Big projects on the horizon for Music Is My Sanctuary. Exciting stuff!