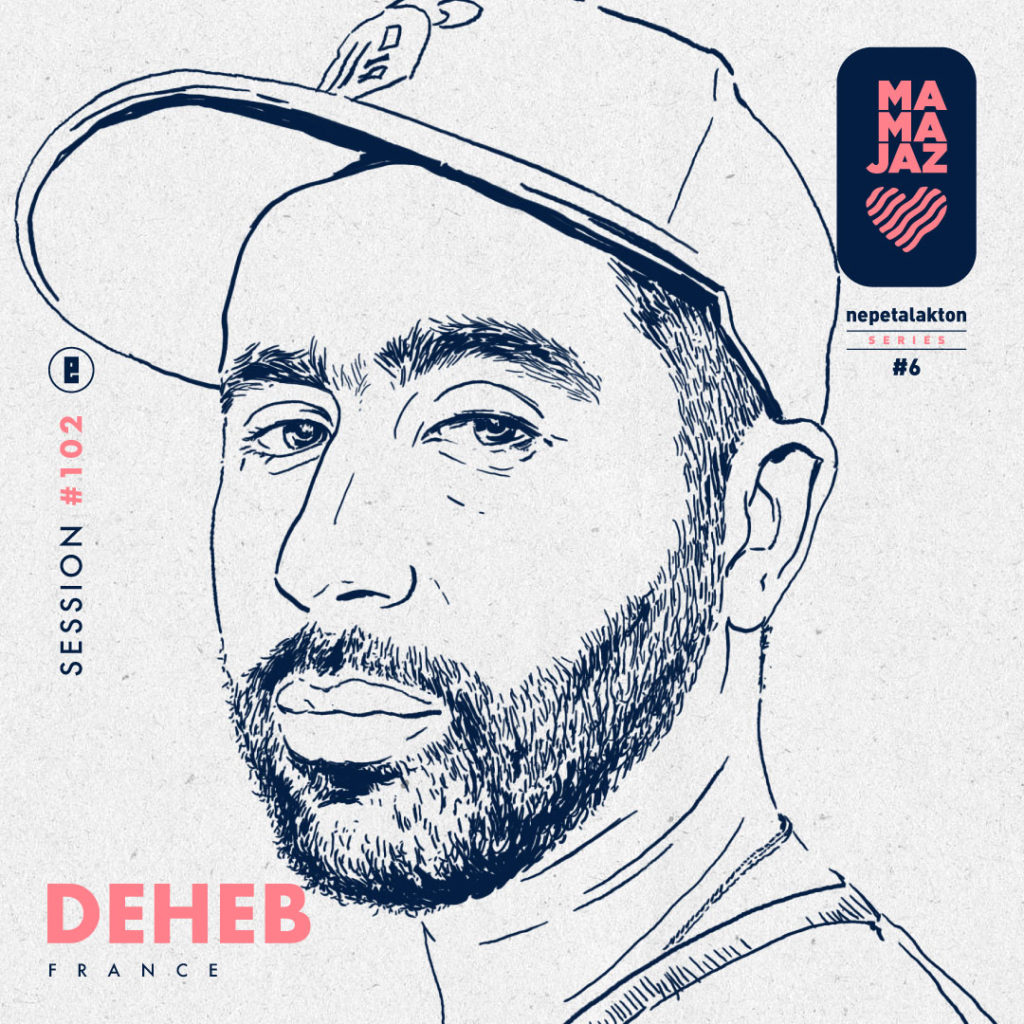 Tracklist:
01 George Duke – Sister Serene
02 Les McCann – Roberta
03 Cal Tjader – Reza
04 Art Blakey – Mirage
05 Barney Kessel – The Look of Love
06 Bennie Maupin – the jewel in the lotus
07 Robert Glasper – This is not fear
08 Georgia Anne Muldrow – Stevelander
09 Thundercat – Uh Uh
10 Daryll Reeves – Peach Lady (feat. Valencia Robinson)
11 Oscar Peterson – Solar winds
12 Jaco Pastorius – Portrait of Tracy
13 Chassol – Pipornithology, Pt. II
14 Kraan – Prima Klima
15 John Coltrane – Acknowledgement
16 Faraji Heritage Experiment – Red clay


Podcast: Download (Duration: 1:01:53 — 142.0MB)

Subscribe: Apple Podcasts | Google Podcasts | Deezer | RSS
Funky Bijou is behind a lot of great tunes truly, can I ask you which tracks you had most fun composing and producing under the duo? And how did you find it?
This 7inch. Still love this two tracks <3
They're fun and funky, I should have tried more tracks like this.
What is a turning point that you have experienced in your musical career?
Working with US artists in the mid 2000's and playing Keyboard on stage.
Was it "Top of the block pt.2" for Apani feat Big Noyd? What made that happen?
One of my best friends, also my first manager had the opportunity to give a beat tape to Apani and she instantly fell in love with my weird beats, after few collabs, she became a real good friend even if we didn't make much music together.
And when did you start learning the keyboard? And recently what is your favourite piece to play?
Ahaha I'm a crook a hacker when I speak about keys, I learned by myself and I work the piano my own way (detuning and working in reverse…). I got a little Bontempi melodica when I was 5 maybe, the first toy that I can remember.
What are some challenges you face in being an artist in this era?
I'm not a beast with showing the world all I can do in music, not a king with social media and all but I try my best.
How do you discover new music?
Check Legrostasdezik Fam on facebook! A gold mine! Facebook friends most of the time and my weekly listen of LeFtO mix.
What's the earliest musical memory you have?
My bontempi Melodica, my father offer me for Christmas, I was 5. Instant crush ahah.
The Goldsmith 2 features a wide palate of artists, what are two of your most favourite tracks in the album and how was the production process for those?
"At least it's not war" with Saga and Astronote, I never had the chance to meet Astronote but I'm a big fan of him since the myspace era, maybe the best French beat maestro of all time. I sent him a drum I composed, he added keys and samples I think and I also added some extra keys and guitars, then Saga did the rest ;)
"Womanity" was the result of a jazzy vibe I had with a track on which I invited two swiss jazz players, two friends I met during my time in Lausanne and Fribourg, the bassist and funk Dj Ngami and the wonderful Pianist Ornella.
What are some upcoming projects from you we should be on the lookout for?
2 Jazz inspired Eps with a crazy guest list, the 2 LPs with Marrrtin as Funky Bijou.
Some words to the jazz audience and musicians at-large?
Keep on supporting independent labels and artist! Stay curious!
More Deheb:
Airing on our sessions, the Nepetalakton series is back with the Nantes-based hip-hop, soul & funk composer and beatmaker Deheb! Mixed during the lockdown period, Deheb offers on our show a breathtaking ode to our island's jazz festival with carefully selected pieces of the genre we're celebrating!
Deheb has worked with some of the world's best french hip hop dancers, with the likes of Iron Mike and Junior from the Wanted Crew. He also got recognised and encouraged by artists such as Pharoahe Monch or DJ Spinna, and at this time he has opened for Jazzy Jeff and DJ Premier. Deheb also regularly collaborates with the founder of Stereophonk Label, also known as a multitalented artist, Marrrtin as the funky combo «Funky Bijou», with endeavours of theirs extending in producing funk breaks and breakdance soundtracks for events like Red bull BC One since Moscow in 2011.
Wearing his bold love for beat-making and jazz on his sleeve, heads up for Deheb's upcoming jazz-inspired EPs, and also some beat-fuelled LPs with Funky Bijou on Stereophonk! In the meanwhile, let yourself be immersed into his exclusive mix on the Nepetalakton series for the MAMA JAZ Festival on our sessïons!
________
What's the latest jazz concert that impacted you and why?
The last jazz concert that blew my mind was Joseph Leimberg in Nantes, a free concert organized by students in Nantes, with like 30 people max in the crowd and a wonderful concert, simple, soulful.
How was Jazz Introduced to you?
I really discovered the jazz when I was a teenager, I was maybe 13 when I heard a live from Coltrane at Monterey, the first cd I listened carefully, plus the combo when I saw Mo' Better Blues from Spike Lee and the video clip from Gangstarr, after that I used to borrow dozen of jazz cd in the library of my hood.
How did you come up with your moniker, and what's the story behind the name Deheb?
Ahah it's a short story, my mother and little sister gave me this name, my sister Nadia always told me I had gold in my hands, so the name "deheb" came to the table, it just means gold in Arabic.
Your set starts with a light-mood feel, yet with fast jazz movements and amazing instrumentations with the likes of Art Blakey, Robert Glasper, and more. If randomly you could pick a jazz instrument and instantly be great at it which one would it be?
Flute maybe.
What are some of the records you're into at the moment?
At the moment, I'm discovering the second album of Sault, a nice mix of groove, rock and soul, a must for this summer, the first album is really nice too.
What are key jazz artists you hold dear?
If I had to mention only one, it will always be Herbie Hancock.
Leaf in 2015 was a tremendous production from head-to-toe, How did you meet with Chief and what sparked the long-standing collaboration between you guys??
In 2011 I moved to Lausanne to live with my girlfriend, and I reached chief via Facebook, we met at the record distrib, Namskeio where his manager was working, cool guys, the vibe was cool at the time, so after 3-4 meeting, they offer me an internship at the studio so I can learn protools and shit. He was pleased by my level in beat making and my ease with keyboard programming so the internship moved quickly into music collaboration with remixes for his EP with Moka only or the Do the Dilla Compilation volume 2.
What do you find most essential for a collaboration to work?
The will to share good vibes and knowledge, it must be a pleasure and a gift on both sides
You're half of Funky Bijou along with Dj Marrrtin, and you're back with two singles in 2020! Is there something cooking?
2 albums Inshallah! On vinyl ! so save your money guys! We're back very soon.
There is this fantastic merge of aural cultures that Funky Bijou are prolific at! First, we gotta ask you about FB's album Yasuke, how did you guys come up with this and where did the idea of going into the Japanese culture stem from?
The Yasuke EP is named after the story of the first black samurai who was originally a slave.
We've produced several tracks for the Japan Redbull Bc one in japan in 2019 and we used those track to make a EP.
And secondly, how in the world were you guys inspired by a Bollywood song dated back in the '80s by Kishore Kumar? And how was the process of re-defining this tune?
Hehe, it's about my friend Martin he's in love with India since I know him. he's a graffiti artist, digger, and beatmaker and he went there several times for mixing, diggin' etc… For the track Funky Bijou anthem… One day I was about to leave my studio, and before that, I jammed with the guitar on a drum break I made and one month later Marrrtin instantly loved the vibe of the guitar theme I played and added the Bollywood sample. It's the first track which we released on vinyl! And the first beat that we introduced in the Bboy worldwide through international battle.