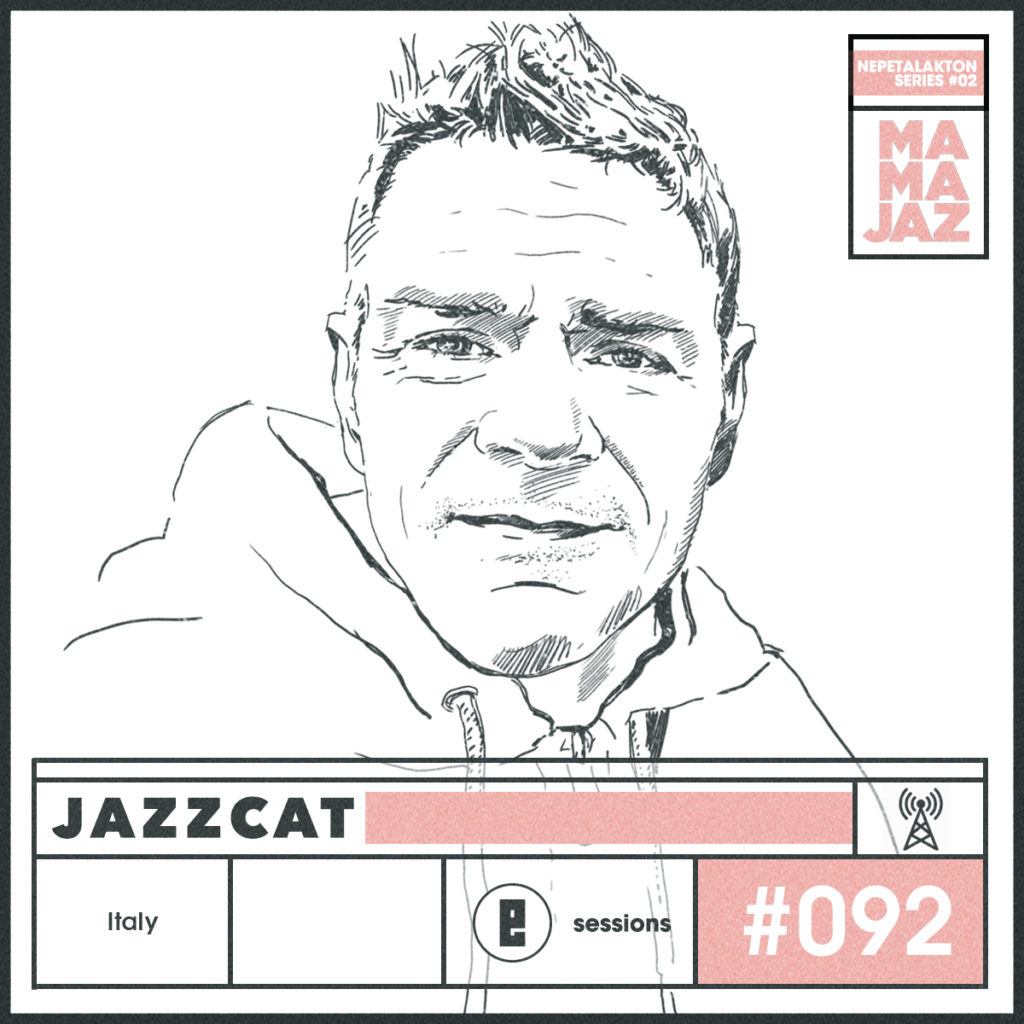 Nepetalakton session #02:
Collocutor – Here To There To Everywhere
Ill Considered – Building Bridges
Wildflower – Long Way Home
Emanative – Ominous Shanti
Ezra Collective – Space Is The Place
Joe Armon-Jones – Go See
Ruby Rushton – Where Are You Now?
Jessica Lauren – Kofi Nomad
Sean Khan feat. Hermeto Pascoal – Palmares Fantasy
Menagerie – Escape Velocity
Nubya Garcia – Fly Free
Nicole Mitchell & Haki Madhubuti – Gwendolyn Brooks
Vibration Black Finger feat. Maggie Nicols – Got To Believe


Podcast: Download (Duration: 1:26:05 — 197.5MB)

Subscribe: Apple Podcasts | Google Podcasts | Deezer | RSS
More Jazzcat:
Master mix by Massimiliano Conti aka Jazzcat; passionate music explorer and DJ, perfect match for the curious ode to jazz: the Nepetalakton Series. The Italian wizard has over 500 mixcloud releases under his belt and featured in countless festivals; now delivers a sumptuous selection from his crates.
Are your eardrums and pineal glands ready for the glide? Just download, hit play and work that smile wide.
Tell us how you recorded that mix and what was on your mind.
This mix was recorded in April at my studio, using both vinyl and cds. With this mix I wanted to focus on the current jazz renaissance started in UK (but I included some artists from other countries as well). Today the worldwide jazz scene is very exciting, it isn't Jazz how it used to be. It's completely new and hybrid and you have no idea where it's going to go because these musicians are so young !
For how many years have you been into music?
Well, I've been listening to music since I was a little child; at the age of 15 (1985) I started DJing at friend's parties and then in local radio stations and little clubs.
You have over 500 mixes on mixcloud and have been Voted #01 Best Jazz, Funk & Soul in 2017. Tell us a bit about your relationship with mixcloud.
I started my Mixcloud page in 2010. I discovered this new music platform and decided to share my mixes on it. In a short time I've built a big audience and I got in touch with a lot of people : listeners, djs, radio stations, musicians and record labels around the world. In a few words, my Mixcloud activity helped me to be part of a worldwide music community and I started DJing in various gigs and festivals around Europe.
How did you get into jazz, funk, soul and afrobeat? In the early days, you were more focused on american black music, tell us a bit about that.
In the mid-80s the older brother of a friend of mine introduced me to black music (especially funky, disco & rap). I still remember those afternoons at his place listening to his records (Earth Wind & Fire, James Brown, Delegation, Grandmaster Flash). But in 1989 I fell in love with Jazz music; a friend of mine came back from London with some Acid Jazz compilations from BGP Records. That "sound" really blew my mind and I started a research in Jazz Dance music and everything related. I started buying Jazz records and discovered amazing DJs like Gilles Peterson, Eddie Piller, Patrick Forge and many others. Definitely, the "Acid Jazz" movement of the early 90s changed my approach to music and opened my mind and my ears to different styles (Soul classics, Brazilian music, old Afrobeat, Latin grooves and so on).
Are you an avid digger?
Let's say that I'm proud of my record collection. And yes, vinyl is still my favorite music support……nothing can beat the black wax !
What's your first record?
My first record was a 7inch : "Wordy Rappinghood" by Tom Tom Club (1981). I remember that I was really crazy about that. The lyrics were written on the back cover and I was singing that song every day !
What do you look for in a record?
No particular rules about that, it simply has to touch my mind, my body and my soul.
How's the scene in Italy?
It's not so easy to push my kind of music in Italy because commercial music rules but I think that the jazz-soul-funk scene here is growing thanks to the important work of record labels like Schema and Record Kicks, a lot of brilliant and talented italian musicians, not forgetting some open minded people that are organizing interesting music events and festivals. Let's see how the scene will evolve…….fingers crossed !
What has been the influence of Jazz on your work?
I think that the Jazz attitude made my music activity very eclectic.